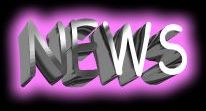 01/27/04
Hello,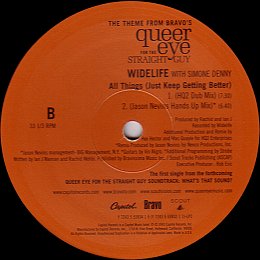 I got a copy of the HQ² mixes of WIDELIFE's "ALL THINGS". I would say, after such a long wait for this somehow "come back" remix, that i am kind of disapointed with it.
Yet, since i had never seen or heard the Queer Eye TV show, i thought it was a good start to appreciate this HQ² mix without associating the song to a silly reality TV show theme and its characters. But, unfortunately, the "HQ² magic" doesn't seem to work this time... Not that i expected a memorable remix coming out of a TV theme (even with the great talent of both Hex and Mac) but i thought the dub could have taken the remix to a new, maybe darker, edge. Actually, the dub is less or more an instrumental version of the remix... For those of you who still did not get a chance to hear the remix, click the pic to reach a 2 mn audio sample.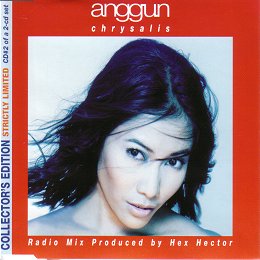 I also got a CD single from indonesian artist ANNGUN. Her song "CHRYSALIS" was remixed by Hex and Mac in early 2001. I got the second single of a 2 CD set which features unreleased HQ² material such as the "Pop A Capella" and also a full lenght VIDEO of CHRYSALIS with the HQ² mix in it . This video looks just GREAT !!!! I know there is also a french version of the HQ² Pop Radio Mix called "TU MENS" (you lie) that was featured on an indonesian compilation but i couldn't get myself a copy. You can click the pic to get more details.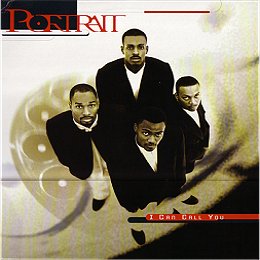 Since i "frantically" collect everything Hex has done, i finally decided to buy a copy of his early SPIKE collaboration mixes of PORTRAIT's "I CAN CALL YOU" even though i guessed i wouldn't like them. I guessed right but i just couldn't help but get it, just in case... The song is funny though and the remix has this typical SPIKE flavour, some of you may like. I added a sample for you to make your own opinion. As usual, click the pic......
01/09/04
Hello everyone,
First, let me wish you a HAPPY NEW YEAR !!!
I know it's been a long time since i last updated the site but i've had many problems with my computer : i lost all the files on my hard disk and had to re-install everything... plus, as you know, there has not been many Hex news to talk about lately )-:
Anyway, here are some news : The HQ² mixes of WIDELIFE's "ALL THINGS" have been released on promo vinyl in the U.S last week. This double set also features remixes from Barry Harris (from THUNDERPUSS) and Jason Nevins. Tracks are : A1 HQ² Club Mix (7:30), B1 Barry Harris Club Mixshow Interpretation (6:25), B2 Jason Nevins Big Room Mix (9:29), C1 Barry Harris Interpretation Mix (9:30), D1 HQ² Dub (7:30), D2 Jason Nevins Hands Up Mix (6:40). The first copies are expensively being sold on Ebay... (around 70$). I still did not get mine since i'm not willing to pay that much for a record that will cost 15$ in a few days....
Still no sign of a release for Hex's mixes of BLU CANTRELL's "YOU MAKE ME WANNA SCREAM".
On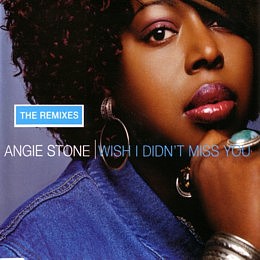 my side, i recently got 2 great promo CD's :
The first one is an Australian promo CD of ANGIE STONE's "WISH I DIDN'T MISS YOU" featuring 6 HQ² mixes, including two radio mixes and the Dub only available on vinyl. You can click the Pic to get to the detailed track listing.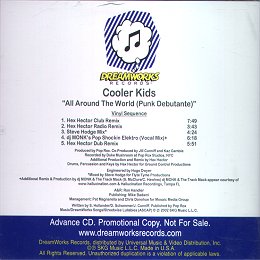 The second one is a U.S promo CD of COOLER KID's "ALL AROUND THE WORLD". It features the same tracks as the vinyl but here you get the Hex Dub (not released on the domestic CD single) in CD quality.