HEX HECTOR was born in 1965 of immigrants puertorican parents who settled in the Bronx. He started DJing at the age of 14 with a Hip-Hop group he had formed called Little Man Crew.
His good friend Robert Clivillés (from C+C Music Factory) helped him to step in the remix industry with a first remix experience on a LISA LISA track. For this first shot, he teamed up with programmer Darrin Friedman with whom he later made a few remixes under the name of SPIKE PRODUCTIONS.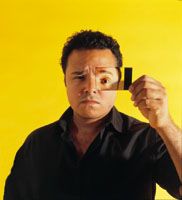 Next step was his collaboration, back in 1996, with Bobby Guy and Ernie Lake (a.k.a. SOUL SOLUTION) on a track called "The Lover That You Are" by PULSE. This remix got played by great DJs such as JR Vasquez, Franckie Knuckles and Jonathan Peters and caught the attention of famous Arista A&R Hosh Gureli who hired the team to remix TONI BRAXTON's "Un-Break My Heart".
They applied their TRIBAL PERCUSSIVE sound over Toni's voice and the remix became a huge success. Hex's career was launched. He then created his own label : GROUND CONTROL PRODUCTIONS and teamed up with talented programmer MAC QUAYLE with who he built his first masterpieces.
His 199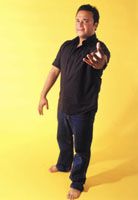 7 remix of DEBORAH COX's "Things Just Ain't The Same" is commonly pointed out as the one which offered recognition as a top remixer to Hex and a club Diva condition to Deborah.
To satisfy the increasing request for remixes, Hex teamed up with another programmer : Desi "DEZROK" Caruso, as far back as 1998. Him and MAC QUAYLE became his two full-time partners.
Since then, HEX HECTOR has been producing stunningly brilliant remixes for many artists of the likes of WHITNEY HOUSTON, DEBORAH COX, ARETHA FRANKLIN, DIANA ROSS, LISA STANSFIELD, GEORGE MICHAEL, JENNIFER LOPEZ, GLORIA ESTEFAN and many more...